INDEX
DELTA TECHNOLOGY AND URBAN PLANNING
BANKS OF THE RIVER GEUL, VALKENBURG
30 improvement proposals in 3 rambling routes

The Geul flows right through the centre of Valkenburg where it appears more like a mountain stream than a river. It is fast-flowing and has changeable water levels. The centuries-old embankments have been constructed largely from marlstone. These embankments are in a very poor structural condition and restoration is urgently required.

The spatial design ensures that:

the history of the embankments and the surrounding area is rendered more visible
the cultural-historical value of the embankments is improved
the tourism-leisure value of the embankments is improved
the Geul does not become even more hidden in the urban structure, but once again becomes part of the public space and more visible and accessible.
The design contains a large number of proposals for improvement, varying from a design for the quay wall at the place where it joins the medieval town wall to the creation of an image of the former city-gate.
The proposals for improvement were presented in the form of three walks which each reflect a crucial aspect of the materialisation of the current quality of the inner city of Valkenburg:

The medieval walk which more or less follows the contours of the medieval town wall. The plans for this walk include proposals to make it easier to experience and access the historical aspects.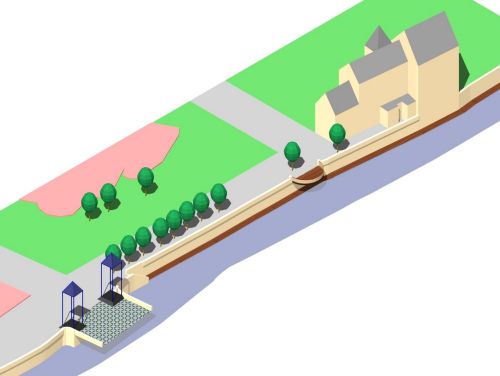 The spa walk which refers to the period at the end of the nineteenth century when Valkenburg emerged as a fashionable, chic tourist resort and health spa. The plans for this walk include proposals related to improving the attractiveness of the public space. The walk is a succession of inviting spaces referred to as the 'flanade'.
The Geul walk which is a walk close to the banks of the Geul and which even runs partly above the Geul itself. This walk focuses on the Geul in all its facets: the Geul as an ancient natural stream, the water mills, the Geul as the carrier of the green structure, the Geul island, etc.
The work started in 2008 and it will be ready in 2013.
Gouverneur Hultmanstraat 2
5224 CJ 's-Hertogenbosch
The Netherlands
+31 651 46 11 15